BR: 2
Bath: 2
PROPERTY DESCRIPTION
Condo, 1 Bedroom + Convertible bed(s), (Sleeps 2-4)
SURFSIDE and SUNSWEPT are our studio, one and two bedroom units.
Please come to enjoy our hospitality.
This one bedroom unit has a reserved parking space next to the elevator. If this one bedroom is booked, try our other one bedroom, Surfside 361618.
UNIQUE FEATURES
Balcony with grill, spectacular views
Optimal breezes
Completely redone – tile, granite, sliding glass doors, cabinets
Ideal parking space next to elevator to unit
Colorful decor and local art
Located one block from Cruz Bay restaurants and ferry, Grande Bay features a beautiful pool, sun deck, hot tub, exercise facility and WIFI. This complex combines LUXURY and LOCATION.
FEATURES:
Sleeps 2-4 persons, 1 bedroom with king-size bed, living room with queen sleeper sofa, full bath. Two flat screen TVs in living room and bedroom with 57 cable stations.
ONE DAY SCENERIO
Enjoy morning coffee lounging on 4 captain chairs on the balcony watching the boats and ferries and a full view of the ocean, harbor, and distant islands.. Then consider visiting world, top-10 Trunk Bay beach by car (your reserved parking space is next to the elevator) or use the taxi shuttle at the gazebo. At the beach, sink your toes in the sand, soak up the sun or lounge in the shade before a mid-day snorkel on the National Park underwater trail.
Stroll along the beach, doze, or read in your beach chair. Return to your place and dress informally for dinner at one of the many great restaurants, including Waterfront Bistro, Morgans Mango, Rhumb Lines, or Lime Inn, just a block or two away. All this and its just the first day of your vacation in paradise. Tomorrow you might drive or take the $1 new VItran bus to Salt Pond Bay, where sighting southern sting rays and green turtles is almost guaranteed. Hike up Ram Head for a glimpse of St. Croix 40 miles away before stopping at Shipwreck Landing or Skinny Legs for an afternoon rum punch.
Spend the evening on our balcony savoring Uncle Joe's take-out barbecue, watching the sunset and twinkling lights of St. Thomas – a perfect way to enjoy the evening. Tomorrow you might be ready for more snorkeling at Waterlemon Cay or Hawksnest. If it is Thursday or Sunday, you can take the 8:00 a.m. day ferry to Virgin Gorda to visit the Baths. On Friday, Saturday, or Sunday, another 8:00 ferry travels to Jost Van Dyke, where Foxys, the Soggy Dollar Bar, and the Blow Hole are attractions.
This 1-bedroom, 1 bath condo features a state-of-the-art kitchen with granite countertops, stainless-steel dishwasher and side-by-side fridge, microwave, blender, Keurig and standard coffee maker and toaster. A good night's sleep is guaranteed in the king-size bed. There is an ideal reserved parking space next to the elevator accessing the unit.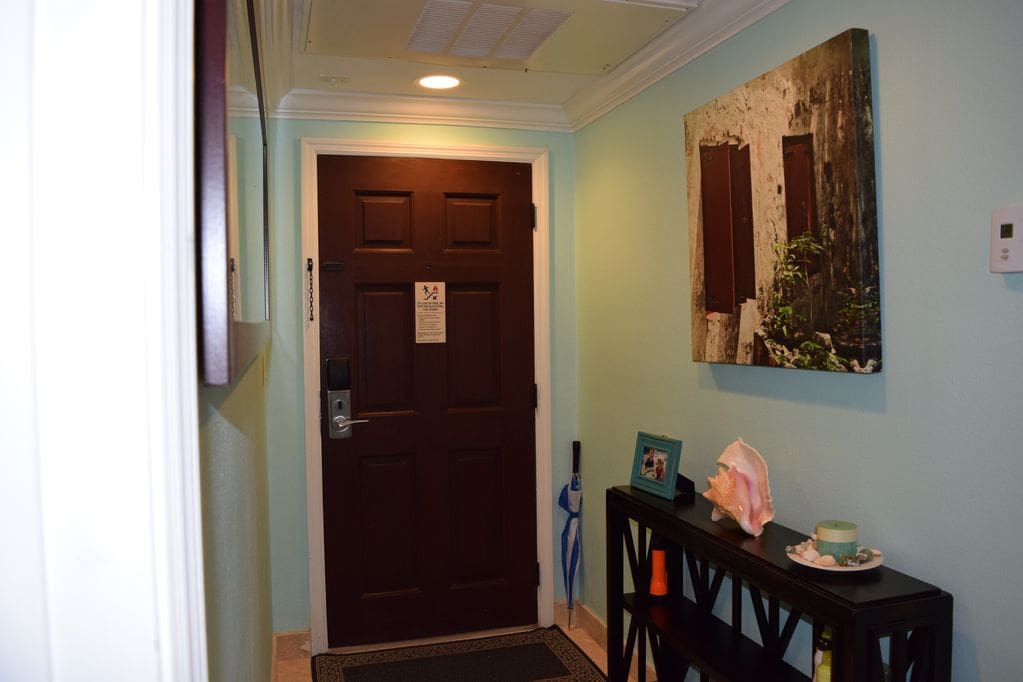 Location