List of the Popular Tropical
St. John Beaches
St. John, Virgin Islands, is the smallest & most unspoiled of the three United States Virgin Islands. It is best known for its dozens of postcard-perfect white sand beaches, turquoise bays abounding in colorful corals & rainbows of tropical fish & endless vistas of green velvet hills.
Only nine miles long & three miles wide, two-thirds of the island is the Virgin Islands National Park, so its spectacular beaches & untouched forests will remain that way for generations to come & be accessible to all.
Frequent visitors to St. John are beach lovers who aren't content to only read about St. John in books but are always ready to go back to the beach.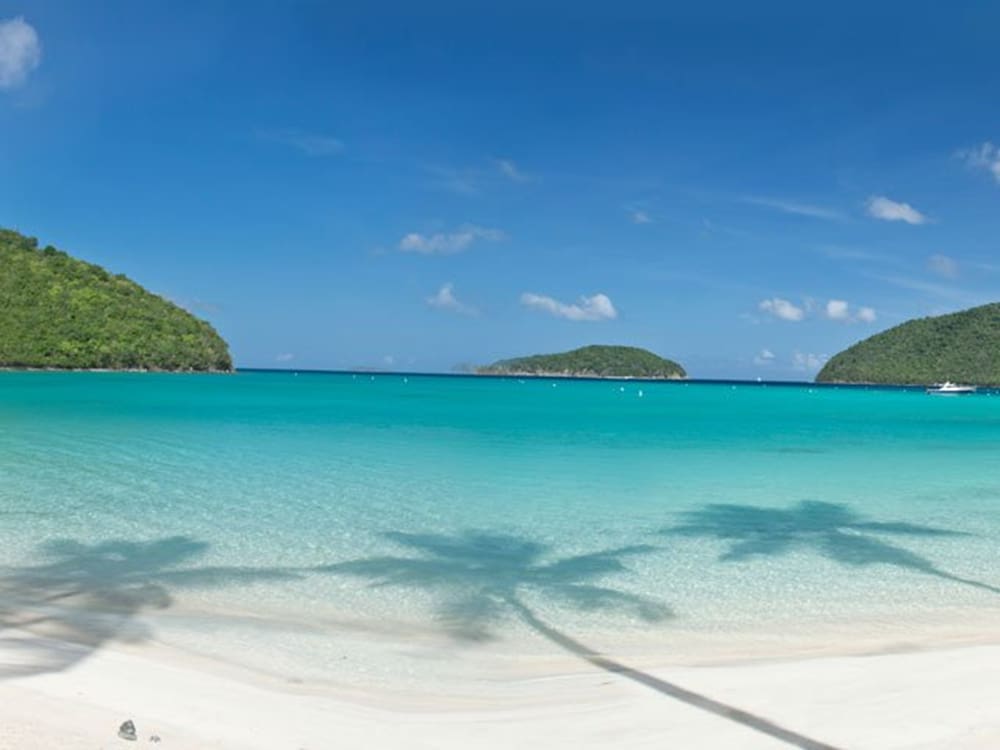 Maho Bay Beach
Voted a "Visitors Favorite Beach", and it's no surprise since Maho beach has it all. From its iconic coconut palm fringed white sand beach, light surf, shallow entry and ease of access – Maho deserves its fame. The narrow sandy beach has plenty of sun and shade. The sandy bottom extends out about 20 yards – making it a wonderful beach to wade, swim, float and hang out! And the shallow sandy shoreline is a great spot for kids and young children to play and make sandcastles. But popularity comes at a price …and the beach can get crowded especially at high season and on holidays! Upside: this beach has bathrooms!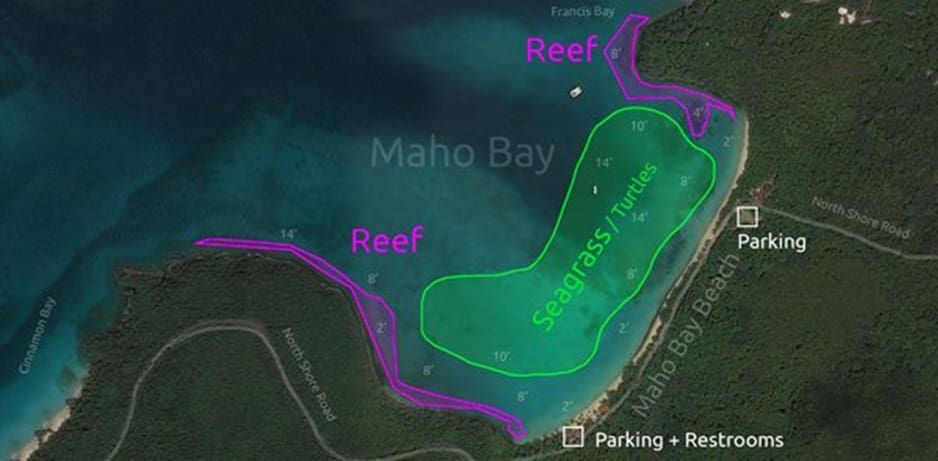 Snorkeling Maho Bay
Snorkeling Maho Bay is our #1 recommendation for St John beach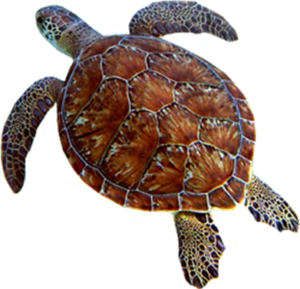 to see sea turtles and rays that feed in the sea grasses just off the beach. Snorkelers and bathers will find pelicans, young tarpon, rays and schools of bait fish that travel up and down the water's edge. Snorkelers looking for patch reefs, corals and colorful fish and marine creatures should follow the eastern or western shorelines.
The eastern shoreline runs out to the point separating Little Maho from Maho Bay Beach. You'll be snorkeling in shallow water – between 3′ and 10′ deep. Along the way you'll discover shallow water rocky outcroppings that are home to a wide variety of corals including gorgonians, purple sea fans, sponges, anemones, and hard corals like Mustard coral, brain corals, Elkhorn and fire coral. Fish – you'll see many varieties of wrasse, damsel, tangs, parrot fish, angelfish and perhaps, unfortunately, even a Lionfish!
The western shoreline extends out about 400 yards to a point between Maho and Cinnamon Bay. The coral and fish become more plentiful the further you go from the beach. Along the way you'll be snorkeling in shallow water that's between 3′ and 12′ deep. The reef along this shoreline is sporadic. But the shallow water makes it easy for even novice snorkelers to enjoy seeing a wide variety of corals and fish. You'll likely see schools of Atlantic Blue Tangs, several species of wrasse (a slender colorful fish with a sharp nose), juvenile Grey and French Angelfish, several varieties of Damsel fish including the bi-colored Beau Gregory with its signature blue and yellow coloring. Corals are mostly Mustard corals, gorgonians, fire corals, several varieties of colorful sponges and small sea fans. It's also a pretty good place to see a Nurse shark (these slow-moving sharks are NOT a threat – but should not be harassed or touched!). Like all of teh other sea life you'll encounter – look, don't touch! Many corals and fish are equipped with toxic stingers to defend themselves against predators. Your touch very well may be considered a threat that demands defensive action.
POINTS OF INTEREST
America Hill Great House Ruins – Look high up on the ridge to the west and you can see the ruins of this 19th century Caribbean great house. If you're looking for a wonderful hike – it can be reached via the Cinnamon Bay Trail > America Hill Trail that starts on the eastern end of the Cinnamon Bay ruins across from the entrance to Cinnamon Bay Beach. The hike is relatively short and fairly steep – requiring hiking shoes. But the view from the America Hill Great House looking back down over Maho Bay / Francis Bay, Mary Point all the way to Tortola is well worth the time and energy.
Kayak, Hike & Snorkel Adventures at Honeymoon Bay, St John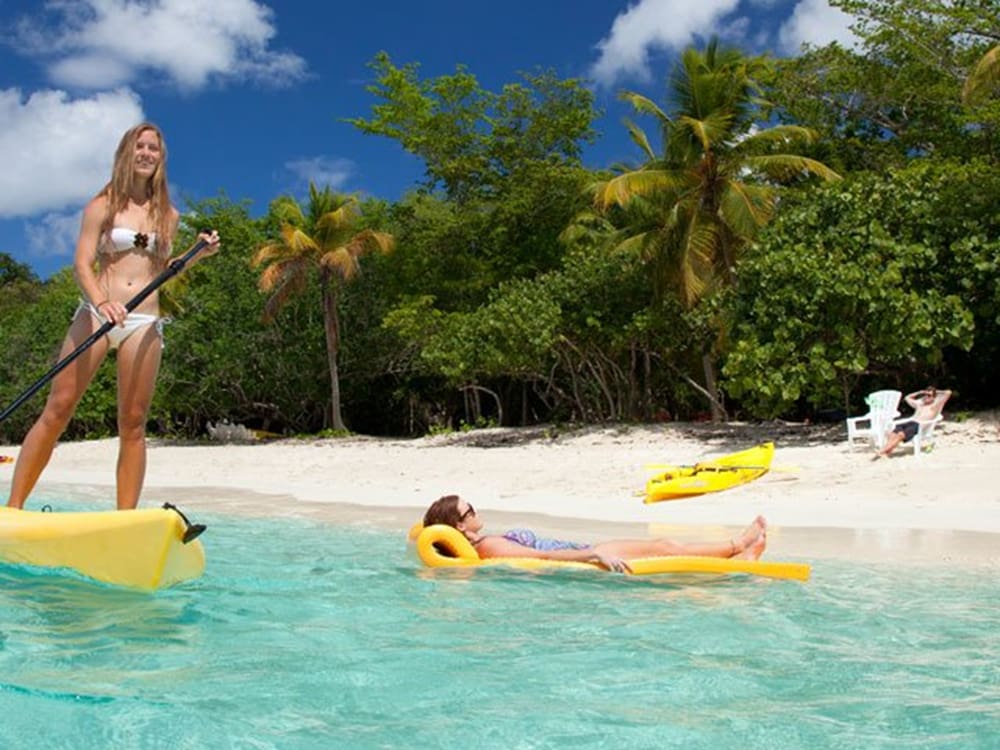 Honeymoon Beach is located within the Virgin Islands National Park
Virgin Islands Ecotours is the only kayak, hike and snorkel tour operating within the Virgin Islands National Park boundaries on St. Johns famous North Shore. VI Ecotours provides guided kayak, hike and snorkel adventures from beautiful Honeymoon Bay Beach. Choose their Caneel Bay / 3hr Tour, Caneel Bay / 5hr Tour, St John Eco Hike & Snorkel / 3hr, Henley Cay / 3hr, Henley Cay / 5hr or a Honeymoon Beach Day Pass. St John Tours depart from Honeymoon Beach. For kayak, hike and snorkel tours details please visit their site  at www.viecotours.com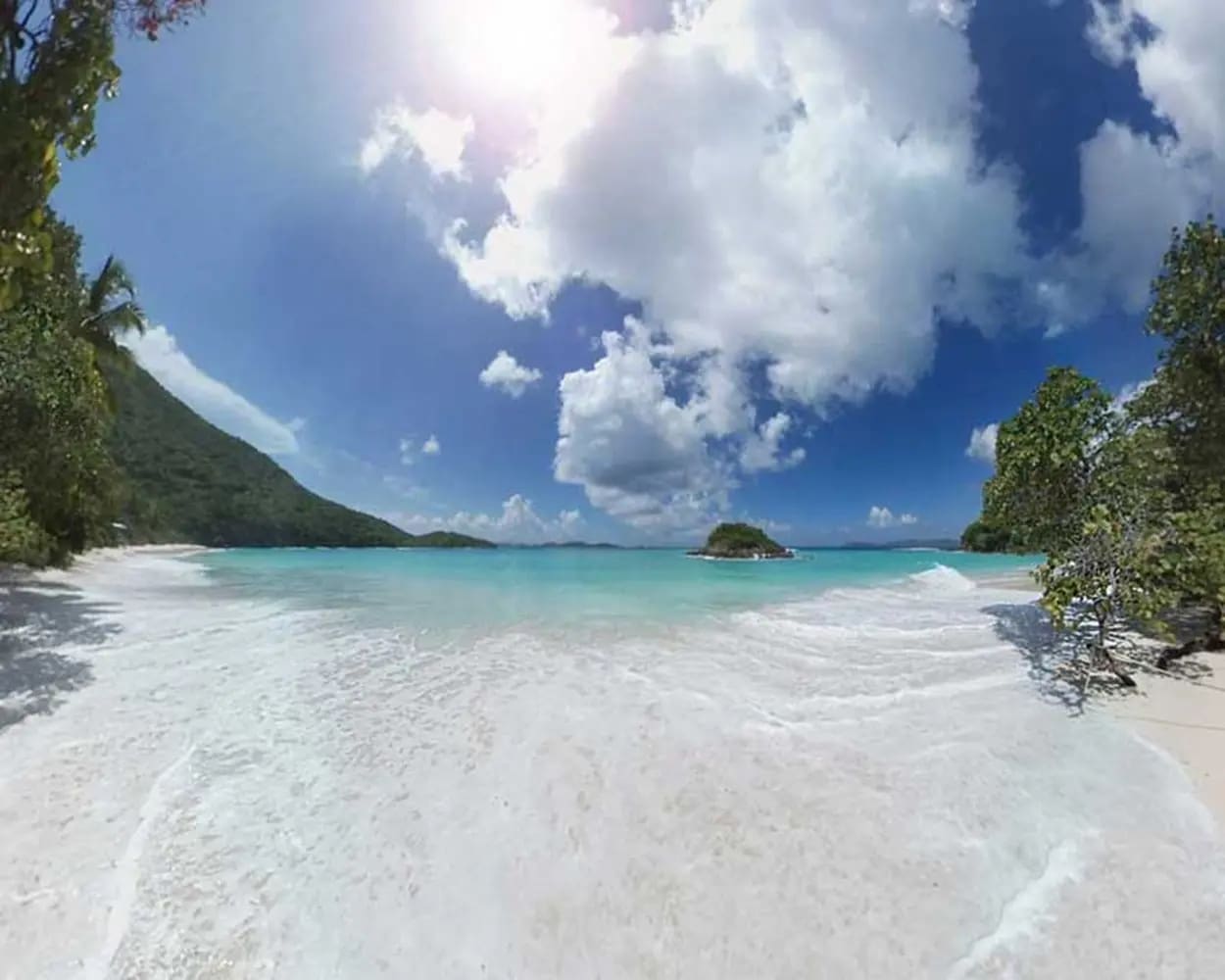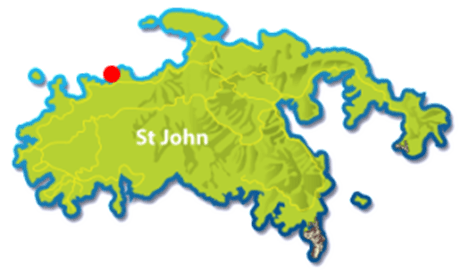 St John Island's most famous beach is also one of the most photographed beaches in the United States Virgin Islands. Over a quarter mile of beautiful white sand makes this the showpiece beach of the National Park Service. Enjoy the self-guided Underwater Snorkeling Trail; with underwater information about coral formations and sea life. Facilities include a snack bar/grill, snorkel gear rentals, showers, restrooms, public telephones, and lifeguards. Please note: Trunk Bay is the only St John beach that charges an entrance fee.
On Site: Food and Drink Concession.
Snorkeling the 650′ Underwater Snorkeling Trail is great for first-timers, kids and older adults. Although this site sees a lot of visitors, it's still one of the best snorkeling spots on St John to see colorful fish and corals – in less than 20′ of water. Keep an eye out for clusters of indigo-blue tunicates. They are a rare treat – and seem to thrive in this location!
The best snorkeling at Trunk Bay is around the small cay that lies just 30 yards off the beach. The western side ( left as you face the water) enjoys more protection from waves and is home to more corals and fish than the eastern side. Visitors will be treated to a wide variety of fish and corals in the patch reef that encircles the cay. Most are easily seen from the surface – since the water is never more than 8′ to 16′ deep. For more experienced snorkelers – diving down you'll be able to see smaller marine life and corals. Keep an eye out for Arrow Crabs, Juvenile Spotted Drum and Blue Bell Tunicate corals.
Snorkel around the rocky cay is more adventure than sightseeing. Waves increase and corals decrease as you reach the far side. The eastern side of the cay is relatively barren of corals.
Oppenheimer Beach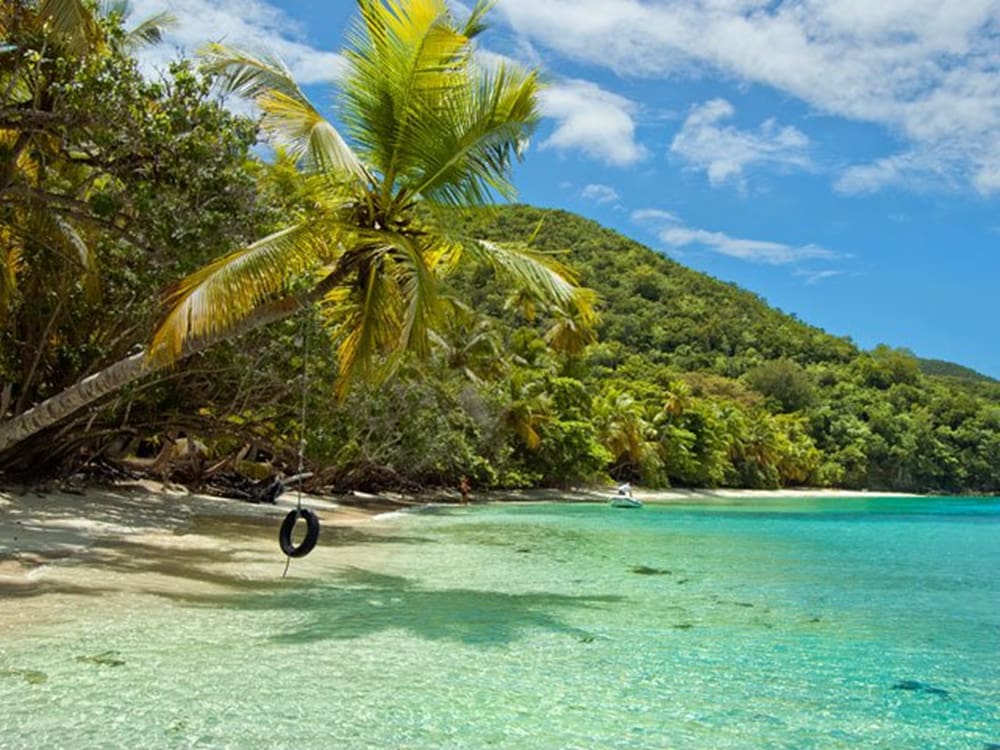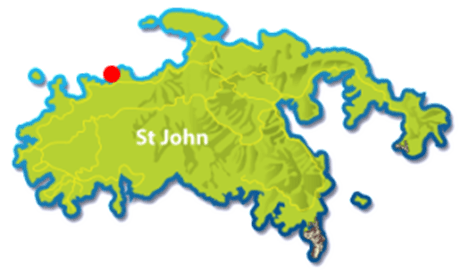 Oppenheimer Beach is located on St John's world famous North Shore. The property is the former home of Robert Oppenheimer, The Father of the Atomic Bomb. This wonderful location is surrounded by the VI National Park and serves as a recreational center for the people of Saint John.
HOW TO GET TO OPPENHEIMER BEACH
From Cruz Bay – take Rte 20 ( North Shore Road) approximately 2 miles – just beyond Hawksnest Beach. You'll pass a white picket fence marking the Gibney's property. Immediately after the fence is the gated entrance to Oppenheimer Beach and Gibney Beach. Parking is limited to just a few spots along the left side of the entrance. DO NOT BLOCK THE GATE. You'll also find a single spot across from the Gibney's entrance – that is cut into the woods. Once there – head through the iron gate and down the paved drive. At the bottom you'll cut along the waters edge heading west.
OPPENHEIMER BEACH – ST JOHN
First: this isn't a traditional St John beach …with soft white sand and room to soak up the sun. It's really a beach for those that want to just hang out under a palm tree and/or swim and snorkel the aqua blue waters of Hawksnest Bay. you'll also discover that because of its off-the-beaten-path location and very limited parking – Oppenheimer Beach doesn't get the kinds of crowds that St John's more popular beaches get. One other note: The property is officially a community center and serves for all types of gatherings, celebrations and can be rented out for the day. If you encounter temporary signs at the entrance gate – please respect those directions.
HISTORY OF OPPENHEIMER BEACH
In 1950 the Gibney's bought forty acres along Hawksnest Bay. That property and the home they built would become what we know today as Gibney Beach. The Oppenheimer's later purchased a small parcel from the Gibney's that abuts the Gibney's family home. Robert Oppenheimer, the "Father of the atomic bomb" built himself, his wife and daughter a small home, close to the water, that still stands. The Oppenheimer's property eventually was given to "The people of St John" and is a recreation center today.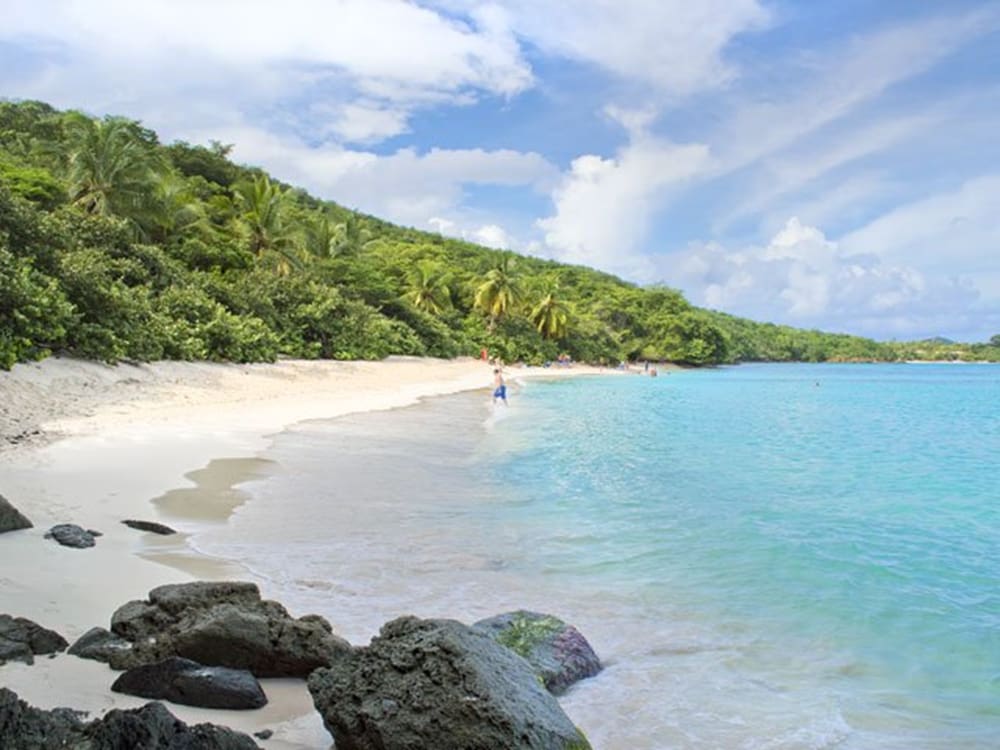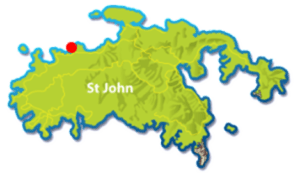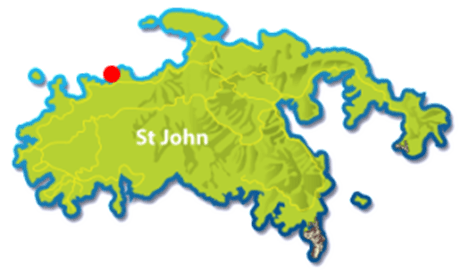 Hawksnest Bay Beach is part of Hawksnest Bay; along with Caneel Bay Resort's Hawsnest Beach, Little Hawsnest Beach, Oppenheimer Beach and Gibney Beach and Mermaid's Chair on St John's north shore.
Getting there:
From Cruz Bay – take Rte 20 (North Shore Road) about 2 mi. You can't miss the parking area on your left.
Hawksnest Beach
This is one of my favorite beaches on St John. It has plenty of parking, soft sand beach, a dramatic shoreline and plenty of shade under the sea grapes that line the water. Depending on the tide, Hawksnest can be a very narrow beach – so grab your sun early and enjoy the shade later in the day.
Because of its orientation, Hawksnest isn't as protected as some of the other beaches. So expect a bit of surf.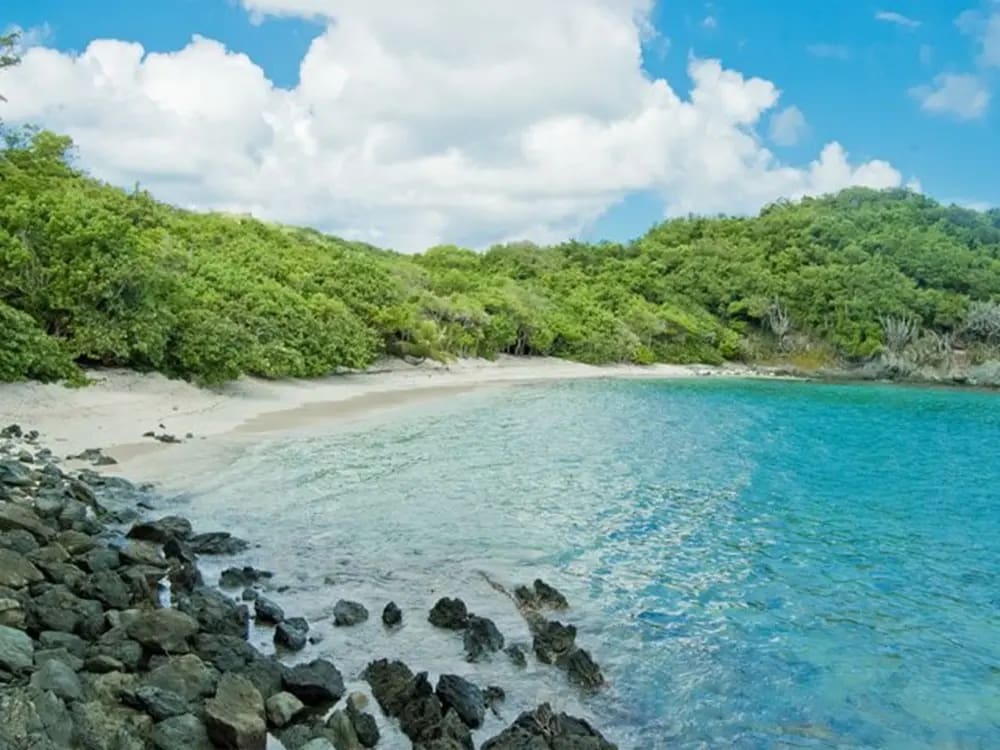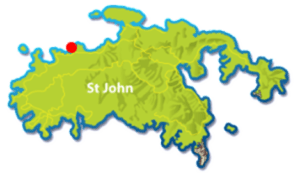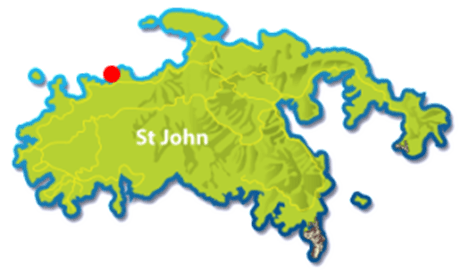 Jumbie Beach is located along St John's north shore. At about 100 yards long – it's not one of St John's bigger beaches. Limited parking and proximity to Trunk Bay mean fewer people "discover" this little gem! So get there early and you'll have a view of Trunk Bay as it fills up with visitors!
Getting there:
Head out of Cruz Bay on North Shore Road. Just over 2 miles from Cruz Bay you'll come to a set of speed bumps with 2 small parking areas to your right. Just across the road is a narrow path through the woods to Jumbie Beach.
Jumbie Bay Beach
Jumbie Beach is short stretch of white sand fringed with sea grapes. Because of its orientation, it gets a fair amount of wind and surf making it a dramatic setting. If the north shore beaches are rough then Jumbie will be very rough. But most days you'll find a wonderful spot to relax in and/or out of the sun with aqua green water at your toes and soft white sand under your butt. Best part, parking is limited – and that means the beach never gets crazy crowds ; )
Snorkeling
Not a great snorkeling beach because of the surf. Subject to high surf at times. Best bet is the reef between Jumbie and Trunk Bay (right as you face the water). Although pretty battered by waves, this reef offers some interesting structure and enough coral and fish to make it an interesting spot.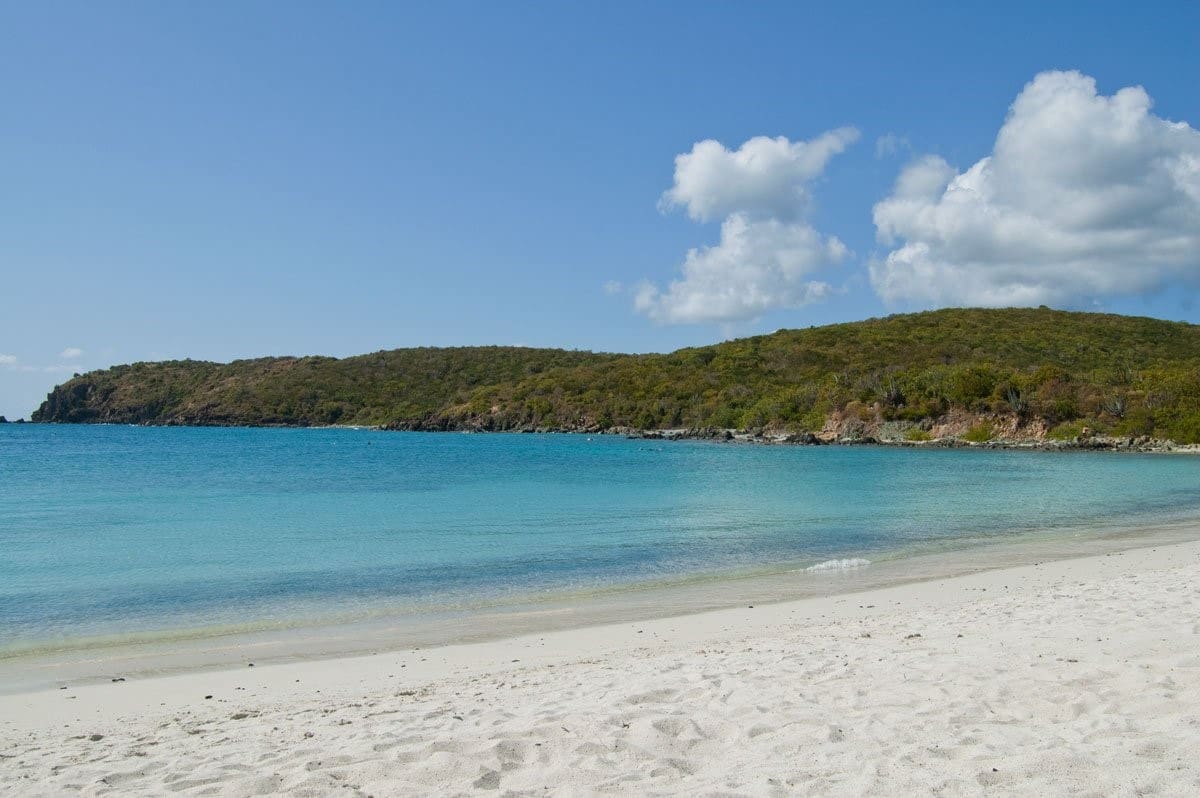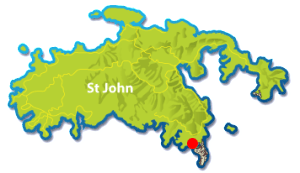 Salt Pond Bay beach is one of the most popular St John beaches. A moderate hike from the road, you'll find this protected cove. Salt Pond boasts a white sand beach and some of the best snorkeling and hiking on St. John.
Getting there:
Coming from Cruz Bay you can take Centerline Road ( Rte 10) or North Shore Road (RTE 20) toward Coral Bay. At the bottom of the steep hill coming into Coral Bay you'll come to a "T" intersection. Take a right and travel the twisting winding road about 4 mi., just past Concordia. As the road turns sharply to the right you'll see parking on your left.
Salt Pond Bay Beach
There is a bit of a hike to this spot ( remember, it's round trip!). Once there you'll understand why so many make the trek. The beach is crescent shaped with great exposure to the sun and breezes. Shallow water access makes this a great spot for swimmers. The beach is protected enough that most days there isn't much surf. Good snorkeling and convenient access to several trails and sightseeing make it a great choice for an afternoon or day at the beach.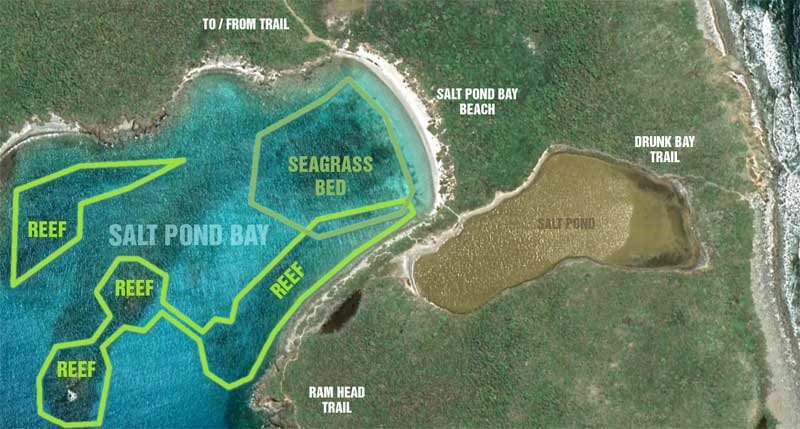 Snorkeling – this is one of the top snorkeling destinations on St John; and while there are certainly lots of fans of this location – I think there are other STJ destinations that trump Salt Pond for snorkeling. That said, you should definitely make the trek. Some of the best sights are a rock hump that's off the center of the bay. While the sea grass beds offer a great opportunity to see a sea turtle, ray or giant hermit crabs ( usually in a large Queen Conch shell)!
Drunk Bay and Ram's Head Trail – Another great reason to choose Salt Pond is Drunk Bay and Ram's Head. Both offer the kind of rugged beauty that makes for memorable adventures and great pictures. Take the trail at the eastern end of the beach. Go left to Drunk Bay with its rugged coral and stone shoreline and visitor-created stone sculptures and cairn. Or proceed right following the trail that leads along the eastern shoreline of Salt Pond to the crest of Ram's Head. The hike is about a mile each way and fairly strenuous [ so bring some water ]. You'll walk narrow island paths and cross a majestic stoney beach before making the final ascent to the top of Ram Head. The view back toward Salt Pond and Concordia Eco Resort makes it well worth the effort! A truly unique view of St John!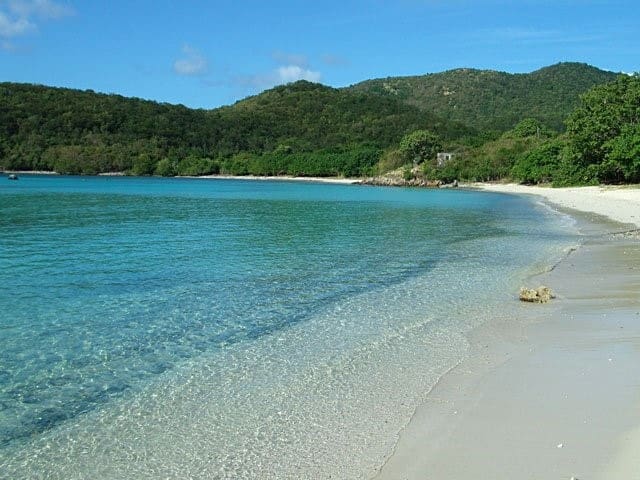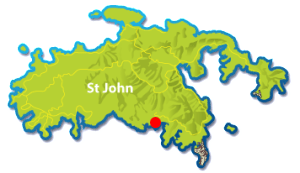 Lameshur Bay is located on the rugged south shore of St John. Its remote location, beautiful sand beach, sugar mill ruins and access to several great hiking trails make it one of my top choices for best beaches on St John.
Getting there:
Although you'll see cars make the trek – this dirt road really should only be traveled in a 4×4.
Coming from Cruz Bay you can take Centerline Road ( Rte 10) or North Shore Road (RTE 20) toward Coral Bay. At the bottom of the steep hill coming into Coral Bay you'll come to a "T" intersection. Take a right and travel the twisting winding road about 5 mi., past Concordia and Salt Pond. At the end of the paved road you'll find the entrance road to VIERS and the 2 Lameshur bays.
Lameshur Bay beach
Just over 1.5 mi from the entrance, past Great Lameshur Bay,  you'll come to Lameshur Beach. There are usually plenty of places to park close to the beach. The beach itself is soft white sand with several places to grab some shade. You'll also find several picnic tables and BBQ grills. Access to the water is easiest at the center of the beach where the sand extends into the bay. The bottom is mostly sand with some patches of sea grasses. Further from shore it transitions to all sea grass – a great place to see sea turtles and rays on St John. The bay is protected and doesn't get large surf unless the wind is out of the south – and after a storm.
Snorkeling – This beach offers some of the best snorkeling on St John. Whether you're a beginner or more advanced – you'll find plenty to explore.
A short swim from the shoreline and to the west is a small rocky outcropping in shallow water. This is a great place for beginners to explore. Closer to shore gets shallow and care must be taken to avoid injury to you or the corals.
Snorkeling along the eastern side of Lameshur you'll find a nice mix of shallow and deeper water structure. I've seen octopus, rays, barracuda, tangs, parrot fish, Caribbean lobsters, coral banded shrimp and Queen Angelfish.
Continue along to Yawzi Point and the waves increase but so does the marine life. Impressive deep-water structure and canyons hold schools of fish, elkhorn and brain corals and myriad sea fans.
Sugar Mill Ruins and Lameshure Bay Trail – At the western end of the bay you can explore some nicely preserved and renovated sugar mill ruins. This is also the start (or end) of several of St Johns best hiking trails. You can take the Lameshur Bay Trail to Europa Bay, The Par Force Great House ruins, petrogylphs and the Reef Bay ruins. This is also the bottom of the Bordeaux Mountain Trail.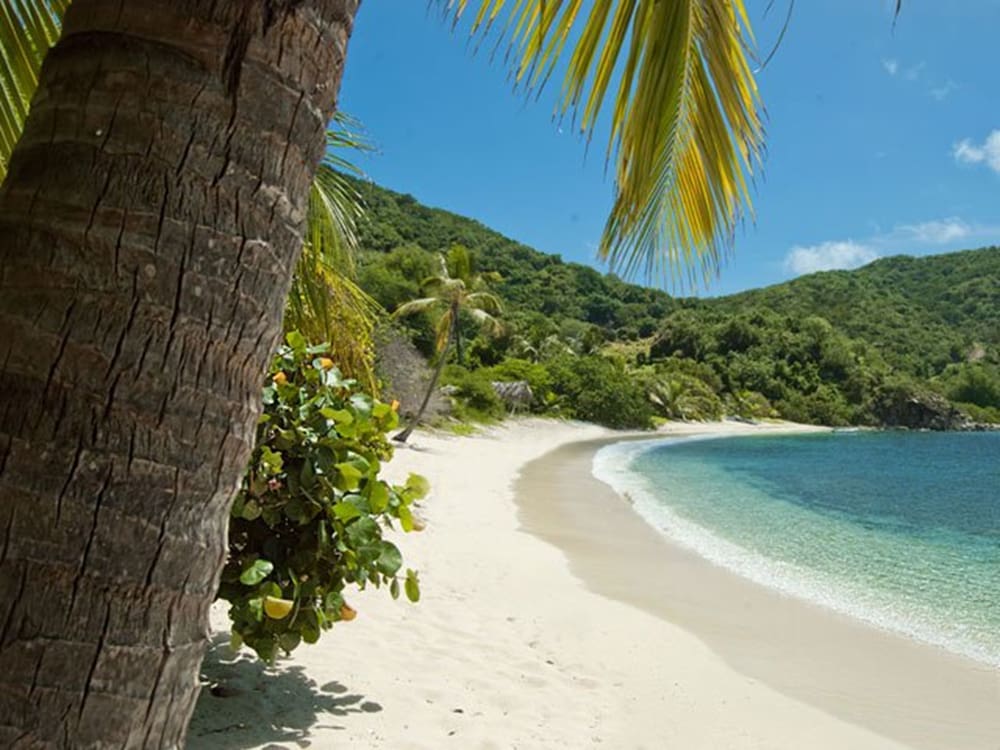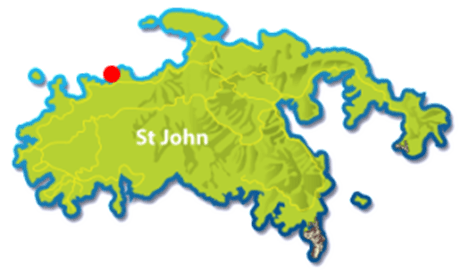 Hansen Bay Beach is located on St John's East End. Vie has closed her SnackShack and beach parking. But you can still enjoy Hansen Bay! Continue past Vie's. Up over the little hill. And as the road flattens out there's parking, beach access and honor bar!